Therm-O-Loc has been providing exceptional service to the Portland Metro area since 1990. We are a local, family owned business who specialize in replacement windows and doors. We have serviced thousands of homes in the Portland/Vancouver area, and our team of qualified professionals are constantly staying up to date on the latest installation standards and codes to ensure that your windows are installed correctly and efficiently. When it comes to home renovation, we value the same things that you do: quality, attention to detail, and cleanliness. We believe that honesty and transparency are key factors in providing the best service, and we always do everything with the customer's best interests in mind. We have chosen to work with the finest window manufacturers in Oregon: Milgard and Cascade Windows. We are a Certified Milgard Dealer, meaning that we are able to pass on to you some of the best products, services, and prices in the industry.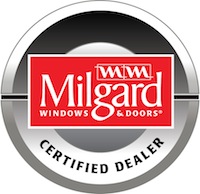 Through our 28 years in the industry, we have built lasting relationships with both our manufacturers and our customers. Having serviced Portland for almost 3 decades, we have gained a reputation that speaks for itself. The trust that our many repeat customers have placed in us is something that we strive for in every job. We are honored to be part of a thriving community in the pacific northwest, and helping people maintain their homes in this beautiful part of the country is something that we are grateful to do.
Interested in a Free Estimate?
We are quite pleased with the Milgard windows that Dorian and his crew installed as replacements to our old wooden cased windows. We had 20 windows to replace and Dorian and his crew got the job done in one day!! Therm-O-loc was the lowest bid we received and we are very pleased with the end results. We would be pleased to recommend Dorian's company to anyone who would like to know how happy we are.
I have done business with Dorian at Therm-O-Loc for 15 years. He really delivers, consistent, on-time and an all round good guy. I was so happy to have him tear out a terrible window and install one that works for me. He never disappoints.
We are very happy with our 14 new Milgard replacement windows. The price, quality of installation, product, cleanliness, consideration of our animals, general demeanor, and thoughtfulness of you and your crew were excellent. We would be happy to recommend you anytime, and hope you can do some other projects for us in the future.